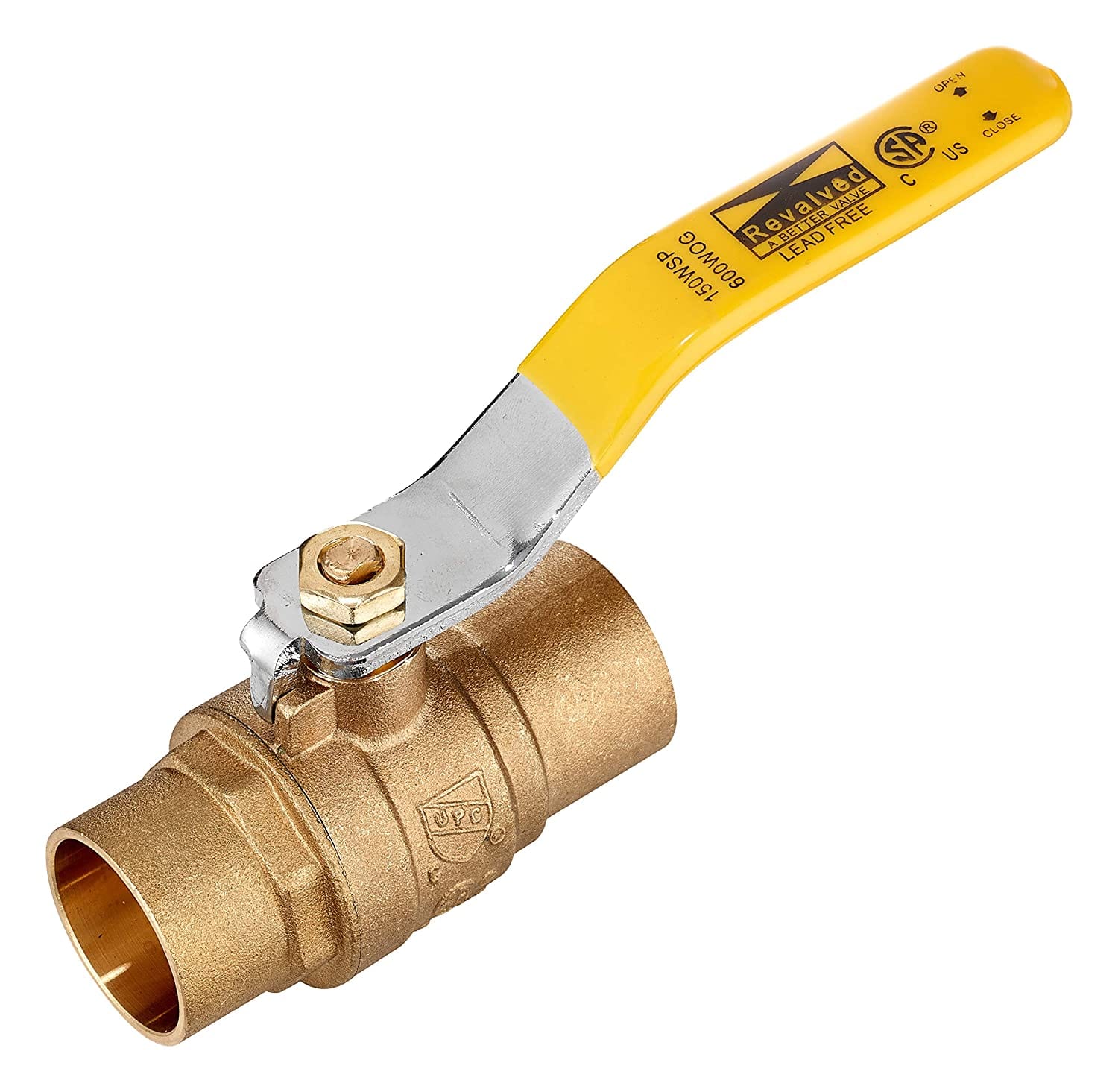 1" Full Port Brass Sweat Ball Valve – Lead-Free SWT x SWT, C x C – 600 PSI WOG
CHROME-PLATED BALL VALVE: Features a female threaded NPT connector for secure, leak-free connections
SAFETY GRIP-COATED HANDLE: Features a 90-degree safety grip coated handle that allows for easy use
HIGH-QUALITY, BUILT TO LAST: Corrosion-resistant forged brass, free of lead & any harmful materials
VARIETY OF USES: Ideal for residential & plumbing use and suitable for water, air or gas piping
SEAL OF EXCELLENCE: Our brass valves have a 30-day money-back guarantee because we value your trust
Full Port 1" Brass Ball Valve by Revalved – Your One Stop Solution for Secure & Dependable Plumbing & Construction Needs
After years of working in the professional plumbing and construction fields. The Revalved brand swear by this simple truth: every structure is only as strong, secure, and dependable as its parts.
That is why we've made it our purpose to provide our customers with products that will not only work, but will do so in the best way possible, for as long as possible.
Full Port 1" Brass Ball Valve – Heavy Duty Forged Brass & Chrome Plating
Designed and constructed according to a series of precise specs and strict safety requirements, this fully approved brass ball valve is exactly what your plumbing or construction projects need:
Heavy duty, 100% lead-free forged brass
Full port construction for optimal flow and tight, leak-proof shutoff
Corrosion resistant chrome-plated brass ball valve
Female-threaded connections for use with NPT/IPS pipes
Bidirectional flow control
Working pressure of 600 PSI Water/Oil/Gas; 150 PSI saturated steam
High Quality Construction – Perfect for Both Residential & Commercial Use
Whether you're working on a plumbing or industrial construction project, or if you're a DIY home plumber, these full port brass ball valves will quickly prove to be the right choice
Designed and built to provide dependable, tight, and leak-free shutoff and connections, these ball valves and their heavy duty, corrosion free construction are guaranteed to last for a good, long while – and then some more!
For the Top-Notch Quality Valves You Are Looking for – Order Yours Today!