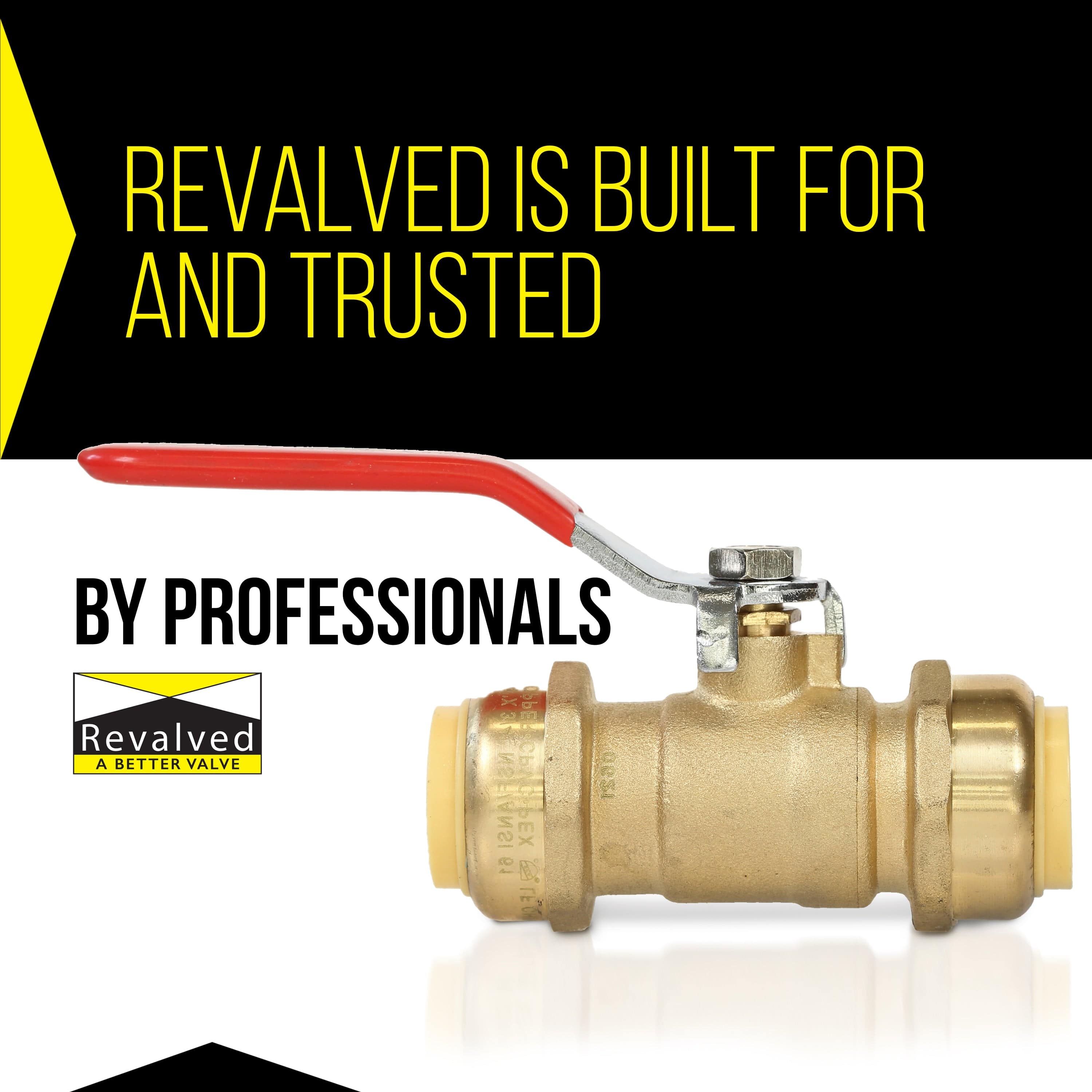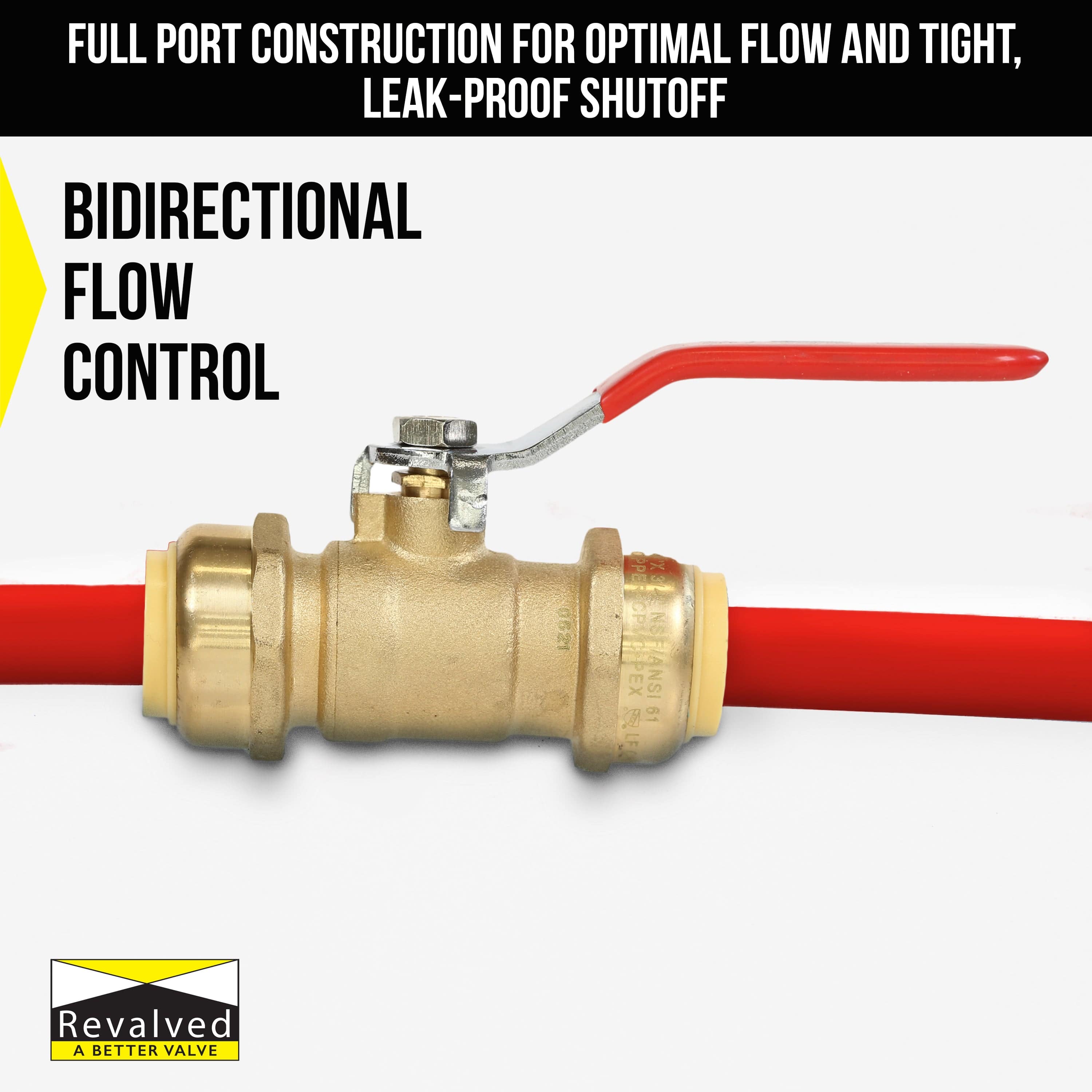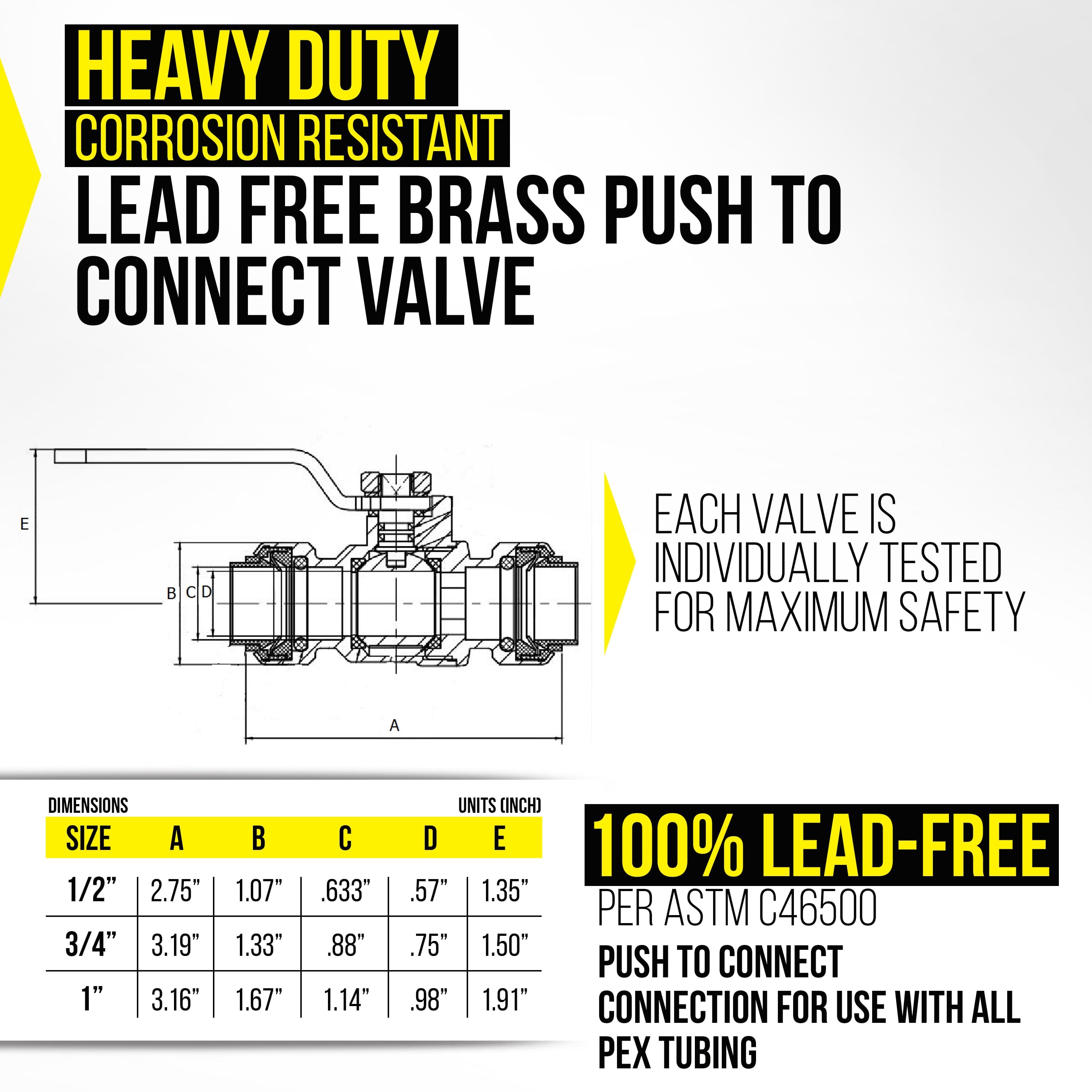 1/2" Push x Push Ball Valve - Push-Fit Water Shut Off (Lead-Free)
Push-To-Connect Heavy Duty Female Push Valve, Plumbing Brass Fitting Compatible With COPPER, PEX, CPVC, HDPE & PE-RT Pipes

PUSH-TO-CONNECT VALVE | NO TOOLS NEEDED: Designed to make plumbing easy, our push-to-connect water shut off valves can be installed in a breeze. Simply push the fitting on and press firmly to connect it to the pipeline you want. That's all. No glue. No soldering. No clamping or crimping. No unions. No special tools needed.
100% LEAKPROOF CONSTRUCTION: By creating a watertight seal with your existing pipes, you may rest assured that our shut off valves will never leak. A great connector for the indoor or outdoor plumbing system of your home, garage or garden without worrying about messy leaks and wasted water.
HEAVY DUTY BRASS QUALITY FOR TOP DURABILITY: Made of the highest quality brass materials that will never rust or corrode, our Shut-Off Water Valves will remain in great condition. Plus, they can sustain a pressure of 200 PSI and up 200 degrees Fahrenheit [93-Dergrees C] making them a great choice for any of your plumbing needs.
3 SIZES AVAILABLE | COMPATIBLE WITH MOST PIPES & TUBES: Our Brass Valve Fittings work great with Copper, Plastic Pex Tubing, CPVC and PE-RT pipes and can also connect them in any possible combination. Available in 3 sizes [½", ¾" and 1"], you can definitely find the perfect fit.
LEAD-FREE QUALITY FOR YOUR PEACE OF MIND: Completely free of Lead or any other nasty material that could leach harmful particles into your water supply, the Revalved Push Ball Valve make a safe addition to any part of your plumbing system. A heavy-duty valve for professional use or residential home improvement projects!



REPLACE THOSE OLD & LEAKY WATER SHUT-OFF VALVES WITH THE MOST PRACTICAL BALL VALVES BY REVALVED!

 No matter if…

* You want to shut off water flow during renovations or servicing
* You need to cut off water supply to protect your pipes from freezing during cold winter days
* You are looking to replace those valves of your potable water or hydronic water heating system
* or if you just have to temporarily stop the water flow at a specific point of your water lines…

 …Our professional-grade brass water valves will have you covered.

PUSH-TO-CONNECT DESIGN FOR NO TOOL INSTALLATION – PLUMBING MADE EASY!

Expertly designed to help even the most amateur of us deal with everyday plumbing issues with ease and comfort, our shut-off water valves can be instantly installed with just a firm push.

That's all. Zero glue, soldering, clamping or crimping needed.

And the best part? Featuring a carefully created leakproof construction, these water valves create a watertight seal for perfect connectivity without any messy leaks.

TOP QUALITY AND PERFORMANCE. A MUST-HAVE ADDITION TO YOUR PLUMBING SUPPLIES TO BE READY TO TACKLE ANY EMERGENCY!


 * STRONG & STURDY BRASS QUALITY: Rust and corrosion-resistant, our heavy-duty ball valves are made to last a lifetime

* LEAD-FREE CONSTRUCTION: To keep potentially dangerous agents away from your water lines

* DURABLE PLUMBING FITTINGS: For up to 200 PSI and up 200 degrees Fahrenheit [93 Degree C]
* CONVENIENT SINGLE LEVEL: For easy on/off control

* WIDE CONNECTIVITY: Suitable Copper, plastic PEX tubing, CPVC and PE-RT Pipes

 AVAILABLE IN 3 SIZES: 1/2", 3/4" & 1"